News
Sheep Update
Visitors to the meadows will have noticed that we have sheep grazing much earlier than usual. We will not have access to the Nottinghamshire Wildlife Trust's flock of Hebridean sheep this year because the Trust has had to cut back drastically on the number of sheep it keeps. We have found an alternative source but, because of the drought this year, we have agreed to allow gazing during the summer to help the local farmer whose sheep will return in November.
We expect to see up to 150 sheep grazing in meadows 2 and 3 for the next few weeks and at some point allow them access to meadow 1, reopening meadows 2 and 3 for public use at that point. After the sheep have gone (around the of August) , we hope to cut, bale and remove the hay (probably in early September), during which period all the meadows will be closed. The meadows will then be open again until the usual November grazing. The woods, of course, are always open for walking and enjoyment.
Posted 8th August 2018
________________________________________
2019 Calendar
We have next year's calendars for sale, at the same price as last year – £5. All proceeds go to maintaining our beautiful woods and meadows.
Get your order in before they sell out, message Andy with your order at fghw2003@gmail.com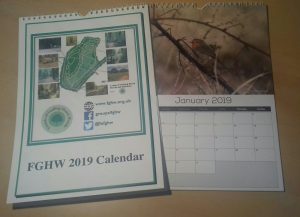 Posted 2nd August 2018
________________________________________
Sheep Grazing
From tomorrow afternoon (Wednesday 25th July), 120 sheep will be grazing in meadow 2, extending to meadow 3 in August. Therefore, the gates to meadow 2 and 3 will be closed, with no public access. The woods and meadow 1 remain open. Please keep dogs on leads through the woods and meadow 1.
Posted 24th July 2018
________________________________________
Bat Walks – further update
*** UPDATE ***
The bat walk, scheduled for this Thursday evening, 26th July, has also had to be cancelled unfortunately due to the ill health of our guide, Tony Morris.
*** ***
Tony Morris has kindly offered to again lead two bat walks in the woods and meadow this summer, these will be on Thursday 28th June and Thursday 26th July. We are hoping for better weather this year. We will meet by the gate into the meadow on Wood Lane at 9.15 for 9.30 start. He is not making a charge but would like donations, please, to provide funds for Nottinghamshire Wildlife Trust & Nottinghamshire Bat Group.
Posted 24th July 2018
________________________________________
EnviroGrant Project Report
Last year we bid for, and received a grant from Veolia to help our volunteers with the maintenance of the meadows and woods. We used this to purchase a portable chipping machine, and below is our report.
EnviroGrant Project Report for Veolia
Posted 16th July 2018
________________________________________
2018 Annual Report
Our 2018 Annual report is available now here:
Annual Report 2018 – Part 1
Annual Report 2018 – Part 2
Posted 12th July 2018
________________________________________
GDPR Statement:
As you are no doubt aware, privacy regulations are changing on May 25th. We've reviewed the data we hold in light of this, and have reviewed our privacy policy and this is published here: Privacy Policy
FGHW do not process data on a large scale as we are only a small organisation. The data we hold is just for processing your membership, such as your name and address, and is not shared with any outside organisation.
Posted 24th May 2018
________________________________________
Safeguarding children in the woods and meadows
Dog walkers please be aware that children from Daisies Day Nursery regularly use the woods and meadows as part of their Forest School activities. They mainly use the top of the second meadow and the woodland to the north and east of the third meadow. Many of these young children are frightened when a dog rushes over and jumps up at them, no matter how friendly the dog is.
We understand that you may not always see the children from the distance, particularly in the woods. If you do see children in the woods and meadows, though, please put your dog on a lead and keep your dog away from the children. Please remember it is your responsibility to keep your dog under control at all times.
The prime times for Forest School activities are 9.00 to 11.30 am and 2.00 to 3.30 pm. Please be particularly vigilant at these times.
Posted 25th April 2018
________________________________________
Meadow and Woodland Management Plans
We've published the meadow and woodland management plans. These can be downloaded from here:
Meadow Management Plan
Woodland Management Plan
Posted 3rd January 2018
________________________________________
New Map
We have a new downloadable sketch map of the woods and meadow, showing the pathways. This can be downloaded from our Maps page, or from here:
Sketch Map
Posted 18th August 2017